At a glance
The FERI Cognitive Finance Institute is the strategic research centre and creative think tank of the FERI Group, a leading investment firm in Germany, Switzerland, Austria and Luxembourg.
With CID's help, FERI's Cognitive Finance Institute (FCFI) implemented the "FERI Trend Radar" to enhance and deepen its holistic understanding of the economy and capital markets.
The FERI Trend Radar is based on a "mission map", comprising of 36 trend topics covering technology, economy, society, financial systems, politics and the environment.
Now, the FCFI can provide better research and explanation of economic processes, supporting investors to make decisions more efficiently and transparently – and with less risk.
FCFI wanted a new approach to holistically understanding the economy and capital markets.
FCFI wanted to support its asset managers and enhance the long-term "horizon analysis" focused on global trends and developments of strategic importance.
They decided to build a Trend Radar that could actively improve research and explain complex economic processes and capital markets.
This would allow the FCFI to address and tackle current challenges and developments and trend analysis from a position of deeper understanding.
FCFI aimed to provide a holistic overview of macro and global market developments founded on meso and micro level insights.
An interactive visualization was needed to support investors with the most recent findings, automatically updated in near-real time.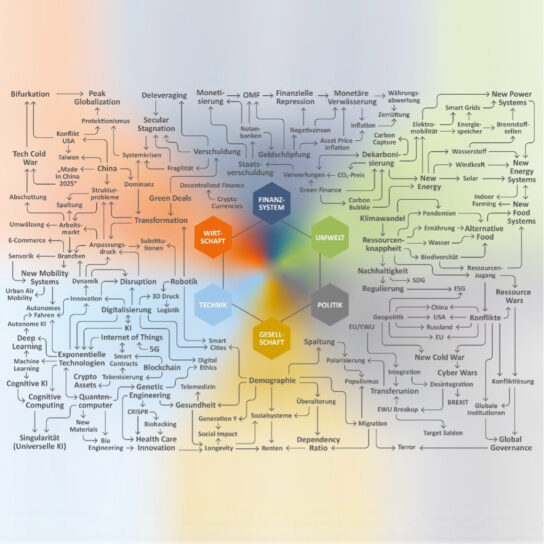 FCFI and CID's focus was clear — we needed smarter explanatory and forecasting models for investors, asset managers and the public.
The key to this lay in enriching structured data with unstructured, qualitative data.
CID's Affinity uses web crawling and Natural Language Processing to efficiently screen large volumes of information, detect key players in the context of a topic (e.g. crypto custody), and identify potential new topics and trends.
Useability is just as important as theme detection — FERI's business and research professionals can easily use CID's ThemeScape as a no-code, self-service approach to find insights in big data.
So far, FCFI has trained Affinity to recognise, follow and capture 36 trend topics.
Affinity captures more than 35 million records annually, allowing FERI to assess short and long-term trends and support investors to make decisions more efficiently and transparently, with less risk.
As a result, FCFI has defined three main factors which allow it to translate data into insights that are easy to visualise and integrate with its fundamental data:
Trend topic growth — based on the idea of a Compound Annual Growth Rate (CAGR) to determine longer-term trend rates for each theme
A "Z-score" that represents short-term changes within a theme
"Share of World" as a normalised topic frequency compared to overall news coverage
FCFI used these three factors to set up a FERI Trend Radar data matrix that places each trend in one of four quadrants of increasing priorities – Latent Topic, Emerging Trend, Mainstream Adoption, and Supernova.
With CID's system, the FERI Trend Radar allows the firm to unlock Thematic Intelligence — quickly and easily assessing the relevance and potential staying power of trends, all contextualised within recent developments on a macro level.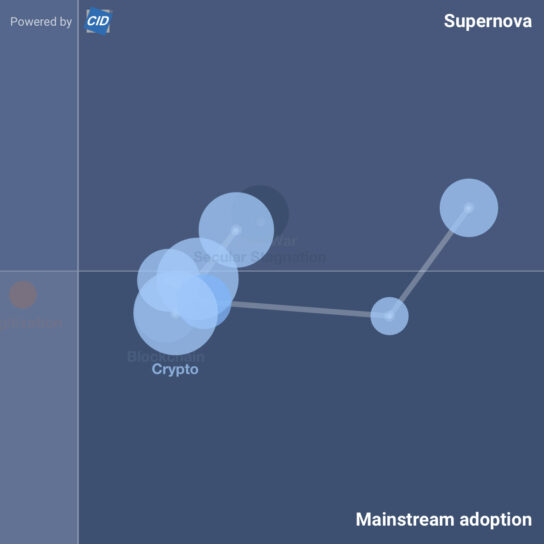 With the AI solution from CID, we at the FERI Cognitive Finance Institute have the opportunity to use technologically sophisticated analytical tools in the field of Big Data and Artificial Intelligence to analyze relevant developments and long-term trends."
Dr. Heinz-Werner Rapp, founder and head of the FERI Cognitive Finance Institute
You might be interested in
See how other Asset and Wealth Managers have enriched their investment practices.